By
Sarah Morgan
Firebrand picked-out three tricks to ensure your data stays safe:
Expect the unexpected. The worst can happen. All those clichés can come true. Backup your data in a safe place - different to where the original data is. Remember, damage caused in a crisis may be physical – fire or flood could kill your systems.
It is advised to keep the backup in a remote place. And it doesn't get more remote than the cloud. Cloud is still an evolving solution: one of the major challenges is bandwidth, and the download speed to recover your data.
2.
Store in a big safe place
Work out how much a year's worth of data is - and
double it
. One day, you may be relieved that you backed-up your data. But you'll curse yourself if you run out of space, and that important file never made it to the other side.
And don't forget to encrypt your data. You don't want to bundle all of your data into a nice package of information, ready-wrapped for a hacker to steal.
3.
Good things come to those who…
Data recovery is a slow process. So prioritisation is key. Work-out which data - in the event of a crisis – is most important. The business-critical stuff should be top of your list.
If your business can function without certain files, leave them until the end.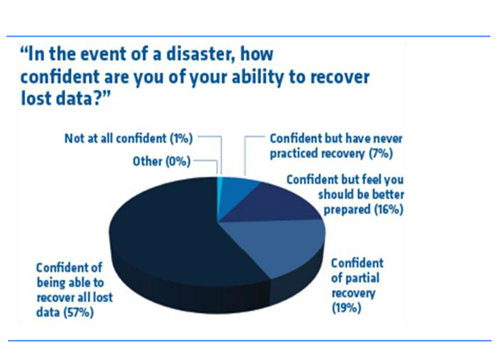 Image courtesy of 'Top 10 causes of IT disasters - and how to deal with them' (computing.co.uk)
About the Author:
Sarah writes for Firebrand Training on a number of IT related topics. This includes exams, training, certification trends, project management, certification, careers advice and the industry itself. Sarah has 11 years of experience in the IT industry.