We're delighted to announce that Firebrand Training NORDICS has again been named as a Microsoft Learning Partner of the Year. In only three years of existence, Firebrand NORDICS has won this award twice. We've also retained our Training Partner of the Year awards from EC-Council and (ISC)2.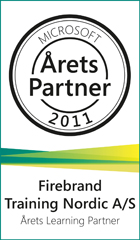 Over 30,000 professionals have trained with us. The reason?
Frank Højgaard, Managing Director, explains:

It is fantastic to receive awards and recognition from Microsoft. Thousands of students have experienced Accelerated Learning with Firebrand Training, and it has proven a massive success in the Nordics. We gain feedback from each of our students, and there is a clear trend in why they continue to recommend us. This includes: saving both time and money, being able to focus 100% on learning in our distraction-free environment, and leaving the course with a guaranteed certification. The award confirms that this is a winning combination."
One example of how fast we are is the 12 day
Microsoft MCTS/MCITP Enterprise & Server Administrator course. Traditional training would take 51 business days overall. We're 400% faster. Firebrand saves the customer 41 business days. One can get both the certs in just 10 business days.
A Microsoft spokesperson said:

"Firebrand Training is growing rapidly and is focusing on having Microsoft as a strategic business partner. The professional and flexible approach has played a role in ensuring excellent results. This has benefitted both the customer and Microsoft."